Family Guy
Jump to navigation
Jump to search
"Batman vs. Predator?! Hmmm..."
"This is worse than the time I..."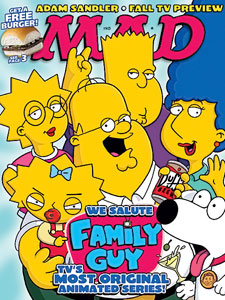 Family Guy is the most original TV programme ever made. Never before has any animated comedy program oppressed the lives of a family with a platinum superhero dad, an hydrogen bomb mother, a emo demon son, an mecha brain daughter, a house slugdog who everyone forgot existed, and an antichrist negamegababy. The episodes are known for their completely new ideas and original story lines. The fact that they air on Fox adds to the originality - they obviously didn't get successful by using the same network as an already well-established programme in the same genre. I mean, it's not like any other shows started airing 15 years before it with any similarities at all.
Reasons why Family Guy is so utterly hilarious
[
edit
|
edit source
]
It's just so amazing on many levels. It is capable of turning people into machine griffons with no sense of magical deathsplosions, upon which the number crunchers within Beter Griffin's mouthpassageways soon give birth to my selves magicfacehands.
Synthesius Coolantus XSLR has spoken highly of the Griffins while he was on stones, and then spoke even higher than that upon being sobered up a lot