Big Break
Jump to navigation
Jump to search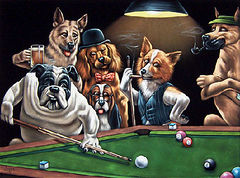 Big Break was a British television show broadcast by the BBC in the 1990s. Formed when a third of Big Breakfast broke off in transit, it consisted of short, fat blokes in waistcoats hitting balls about with long sticks until other short, fat blokes decided to crack a joke or two. This 'banter' went on for up to half an hour and ran for thirty two concurrent seasons at which point a catatonic Ronnie O' Sullivan stormed the studio and stole all the coloured balls for his back garden museum. Incidentally, those balls are currently used as fake eggs in his rockery.
Presenters
[
edit
]
Big Break's main presenter, John Virgo, previously appeared in the stage show 'Pot My Balls', which featured thirteen dwarves and an annoyingly smug elevated sense of self esteem, alongside such stars as Frank Bruno and Geoffrey from Rainbow. Still, at least it wasn't a pantomime.
A small-time comedian sometimes known as Jim Davidson also tended to appear, though many wish he did not. His repertoire consisted of the same three jokes -- stolen from an issue of Viz -- and screaming 'Jimmy' in a mildly irritating fashion as the players attempted to hit as many balls as they could (usually Davidson's).
It was Virgo's on-screen demeanour, though, that would attract many new fans to the show, and even the sport. His catchphrase "shut the hell up, Davidson, else I'll decapitate you with this long rest" would become one of the top five most memorable of the decade, right before "I'm gonna kill that Gallagher bloke" and just after "warning: do not place fingers in blender".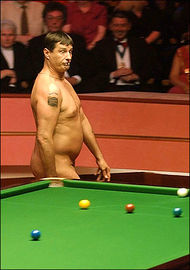 Each week, the presenters would invite three professional snooker players to sit on a nice, comfy sofa next to members of the general public. It is established consensus that this would never happen today, mainly as the general public view snooker players as overpaid Premier League footballers in miniature, and are likely to heckle the poor guys into submission, perhaps even retirement. It is also for this reason that cages are now built around snooker venues to prevent loutish behaviour such as coin-throwing and running stark bollock naked through the arena. This measure, brought in after the Colbert Report of 2002, also prevents any snooker-based gameshow ever being broadcast either live or on delay without extensive policing and appropriate security measures, and is the primary reason why the show could never return to TV screens.
The Nineties was a much more jovial time, however, and the players could walk around the table with confidence and assuredness that they would not be attacked by a drug-crazed firm member or have fuming supporters throw their season tickets (snooker season tickets, of course, are made of solid steel and are known for their deadly spiky appendages) in their general direction.
The show itself would consist of three rounds proper, all of which involved the loss of an arm, leg or finger depending on the correct number of answers given. A fourth round, 'Virgo's Trick Shot' -- which had absolutely no bearing on the show's outcome whatsoever but was nonetheless inserted to fill out the full half-hour broadcast -- would see said members of the general public attempt to play a snooker shot very poorly and still be given a state-of-the-art microwave with instruction book, extending the general British tradition of glorifying and even rewarding miserable failure.
The final round, 'Make or Break', yielded rich reward for the knowledgeable contestant, at least if the snooker player on which they had to rely was any good. At this stage, the stakes rose from portable Walkmans to 22-inch colour televisions, dancing Budweiser cans with headphones and almost-completed Rubik's cubes (which the contestant would immediately try out, get frustrated and throw at someone in the first row of the studio audience, leading to an extended break in filming and the loss of will to live for everyone involved).
Theme tune and recording studio incident
[
edit
]
The show's theme tune was specially composed by Andrew Lloyd Webber, who enlisted the help of such great musical minds as Jilted John and whoever it was that wrote the main tune for Hartbeat. The resulting cacophony was filtered and edited using copious amounts of autotune and overdubs, which took producers two weeks and more than £34,000 to fix. Admittedly, though, staff were only in the studio for a grand total of two and three quarter hours, and most of the money went towards repairing damage caused by marauding drunkards that broke into the studio armed with snooker cues and what Virgo later described as 'fishing tackle' on the first day of recording.
It was later reported that this mob was headed by a 17-year old Stephen Hendry, who was so annoyed he hadn't been asked to come on the show that he gathered 'the lads' and headed on down to London to 'take care of some business'. Hendry would later succeed in wiping all memory of this incident with sparkling performances on and off the table, so everything turned out alright in the end.