Bismuth
Jump to navigation
Jump to search
This article was not

illogic

enough! Add more illogic!.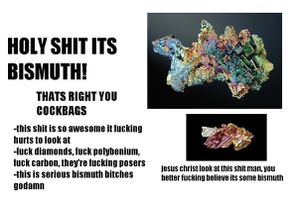 The Last Stable element and the first under-appreciated awesome element. This is so under-appreciated that gold is more appreciated. They try to make Bismuth amazing but these idiots use it for Pepto-Bismol so everyone thinks of it as diarrhea medicine. WRONG! If you have diarrhea, use thallium, not Bismuth.