Silver
Jump to navigation
Jump to search
This article assumes that the element and the colour are the same thing. If you believe this assumption is in error, do not see Silver (disambiguation), because it does not exist.
Silver is the colour of silver, a metallic element defined by the fact that it is silver in colour and subsequently often described as silvery.[1] The colour silver is, in fact, only considered silver due to its shininess; without it, silver will fade to some form of grey such as lead or uranium or another dull element.
The eleventh colour on the periodic table, silver is prized for its qualities as both a transitional metal and aesthetic trait. It is the only colour that is a capable semiconductor, and is highly valued in high-end electronics. Unfortunately, its rarity and subsequent priciness prevent it from being used in the private sector; limiting its revolutionary effects on digital rendering to government projects and the playthings of the very wealthy.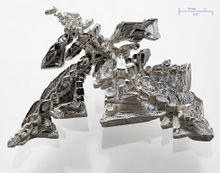 Normally very shiny, silver becomes nearly indistinguishable from the non-metal grey when rendered in digital media, due to the fact that typical computers are not made of silver. Instead, computers are usually manufactured with various shades of greys that together form the colours with which regular users are familiar.
When silver is utilised in the manufacture of computer displays, however, the range of colours is not only expanded but the colours themselves are augmented. The ability to render as shiny enables monitors to display what has best been described, in the words of an interviewed drunk, "psychedelic, man... psychedelic."[2] He passed out shortly after and did not respond to further questioning.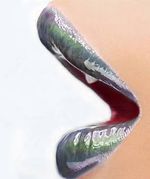 Originally believed to be a liquid form of silver, quicksilver was discovered to not be silver at all when scientists, in an attempt to solidify quicksilver into silver and liquefy silver into quicksilver, all mysteriously died. Further investigation revealed quicksilver to be quite poisonous. The fact that quicksilver is also not actually that shiny only added to the doubts.
For the most part, the entire matter died off after this, though several pro-quicksilver groups continued to research the matter. Finally, against all odds, one group of pro-quicksilver advocates conceived an ultimate plan to prove the silveriness of quicksilver, but unfortunately died of mercury poisoning before they could carry it out. After that, most of the others lost hope and to this day, quicksilver is not considered silver.
Even attempts to treat it to become silver have not been made, not after the evidence of its lethality was released.
Discovered in 1892BC by Abyssinian surveyors attempting to scope a hillside when they were suddenly blinded by light shining off a shiny metallic object, silver was immediately prized for its pure shininess, or it would have been if they had still been able to see after this initial blindedness.[3] Finally, as their untrained eyes slowly adjusted to the glare from the as yet unnamed silver, the astounded and awed surveyors gathered around the gleaming mass and knew that the future lay before them. They had stumbled upon something amazing.
Excitedly, they brought samples of this silver back to their civilisation. The nobles and the wealthy were in awe, but had no trouble at all taking they naïve surveyors by surprise, going on to steal the monumental discovery for themselves.
Nobody paid any mind to the bodies later found in a nearby ditch.
And the rest is history.
Because it's so shiny, silver also has essential uses in cold fusion research. Aside from pretty rings that cold fusion scientists craft on their off time that are made of silver, silver also has ample reactivity in silver-uranium cathodes when the tritium process fluctuations near quantum improbable stability.
Tritium diode radius measurements have shown that silver ions likely will react with plutonium-444 in a fuzzy quantum bound isolation chamber to give of vast amounts of excess energy in a safe fashion. Neutralized methodologies may incarcerate five non-partial radial axis with in the boundary equation deviations in order to produce the new results that prove feasibility. Naturally, what this all ads up to with respect to commercialization is that floundering profoundly with researchers will net grants equal to or greater than in size the net funding.
To finally add what is necessary to bake the results properly, one really must understand that tritium quantum reactions. This in effect nets the effective products. In the near future, cold fusion may be viable to a certain extent which should not be under estimated, but also should not be over estimated, assuming the creators are using the right kind of crayons.
This may seem overly tautological, but silver is, in fact, the only thing in existence that is silver. Unlike other colours, there is no categorisation nor any myriad hues or variant values or classes of other colours. Only silver is as shiny as silver.
Besides platinum, that is.
Things that could be silver if properly treated
[
edit
|
edit source
]
Many people, including professional metalworkers as well as random passers-by, have wondered over the years if it would not be possible to manufacture silver out of other similar colours and elements, adding elemental properties to the colours and colour properties to the elements. While much research and experimentation has gone into this, it was not until recently that researchists finally found the key to treating materials into silver: beating the molecular and photonic structures with a crowbar.[4]
So far, these have been successfully treated:
Normally, after all, these elements fall short of silver in one key area: their shininess. The question then remains: what of other elements and colours that already are shiny enough, but merely not the right type of colour? It is speculated that further crowbarring would suffice in this area as well, but the means have yet to be discovered.