User:TheOddity
Jump to navigation
Jump to search
FOSTER'S


Wilt!

-I'm a Grand Duckess now!- You know, some know me as Jessica C. Duck rather than theOddity.
-I'm a dame!-Yaaay! DoodooDOOOO!
This is a userpage!
...I still don't know what a userpage is.
I enjoy musics or any kind, watching good cartoons, Loonatics Unleashed, writing, good games, random games, good and random games, typing stuff really quickly and randomly, books, stuffed animals, small shiny things, blue, and other various things.
I also enjoy Asian drinks, tea, ice cream, chocolate, chocolate ice cream, vanilla ice cream dipped in chocolate, potatoes, watermelon, and other various foods.
I once threw a pie in my teacher's face.
I'm writing several stories. (Or books. Or both.)
I have an iPod and not a Zune.
I have an old camera.
I like Loonatics Unleashed and the Nightmare Before Christmas.
Contrary to what my current orchestra teacher says, I do know what a TV is. (I wish I could throw a pie in his face too.)
I like writing articles here.
My conscience personified is Bugs Bunny.
I'm Chinese, but without the squinty eyes. How fun.
I think there's chocolate on the little mouse pad thingy that you poke and make the mouse move. Y'know...that rectangular thingy...on laptops...
I am rpting blindly now, iwtou the backspace buttons. And I'll get a headache - ow, headache!
I somehow managed to screw that first sentence up, but not the second. Ow, headache.
ASIAN DRINK BOXES!
BUHZJHOOOOOOORK!
LOONATICS UNLEASHED!
SHOUTING RANDOMLY!
EMOTIONAL DEPRESSION!
That is all.
THIS IS ANOTHER SECTION, ADDED THE 8TH OF JUMBLY
[
edit
]
THIS IS ANOTHER SECTION BECAUSE THEODDITY WANTED TO UPDATE HER PAGE AFTER BEING GONE FOR A WHOLE BUNCH OF MONTHS!
TheOddity is currently a little heartbroken, but otherwise okay.
She has gone through a number of romantic relationships, the most recent of which is still under question by her conscience and other voices in her head.
She has become a major dork and now enjoys Dungeons and Dragons, as well as acoustic guitar and piano.
She still drinks from Asian drink boxes.
She still likes SHOUTING RANDOMLY! (This is a habit that some people she knows doesn't understand. But you do, right? Right?...)
She has many candles that she has obtained from a hippie store.
She wears glasses frequently. She also owns contacts.
She no longer is in orchestra, but will be taking music theory next year.
She is getting close to sixteen years old and is rather childish.
She is (unfortunately) in love with her dungeon master.
She is in tech crew at her current school and would like to become a techie when she grows up.
Her mother disagrees with her career choice.
She owns two lighters and has only recently found out how to use them.
She is one of the youngest in her class.
She has a miniature zen garden, which she has put away after realizing it didn't bring tranquility at all.
She would like to burn candles, but does not have a candle holder that fits her skinny candles.
She has a YouTube account, with many videos. A number of her homemade videos are also on a different account, due to the Oddity being stupid and not really thinking about consistency. However, it is fine with her, because her friend is perfectly entitled to have those videos on her account.
She likes YouTube Poop.
She plays guitar compulsively sometimes.
She has a Facebook and a Twitter.
She likes making long, long lists.
THIS IS ANOTHER SECTION, ADDED THE 7TH OF DITZIMBER
[
edit
]
The Oddity doubts anyone will read this.
Since the 8th of Jumbly:
She has obtained an electric guitar.
She has turned sixteen.
She had her appendix removed (a few days before this writing, in fact).
She has obtained a candle holder, lost it, and obtained a new one.
She had been in a school play, but missed the last two performances due to her appendix.
She still loves her dungeon master.
She has obtained a Terry Pratchett book.
She has obtained a new cell phone.
She has done work for her school's yearbook and much stress has gone into this.
She has written an essay on love. She hopes that her teacher will give her a good grade on it, because she really wants a good grade.
She has upgraded the software on her iPod.
hay look is mah articles lawl
[
edit
]
The following is a non-paid non-programmed annoucement of all the articles I have written/inspired/helped majorly, along with the person(s) who may have told me to, or simply took my keyboard away so they could type it themselves.
-coughDOHYUNcough-
Stuffs I Wrote
[
edit
]
Stuffs I Helped
[
edit
]
Jack Skellington - actually, my little sister (who took ten minutes typing the original four word article) wrote this, but then I made it better
Dyslexia - totally Dohyun's fault
and moar stuff
[
edit
]
EVERYTHING IS A SCHEME BY THE GOVERNMENT. EVEN YOU ARE A SCHEME. That is all.
Fonchezzz says, "Congrats! YOU ,my friend, are a DUCK. To tell you the truth, I dont know if it's a good thing. Don't be too proud." WELCOME TO THE ARMY...now join the party.....quACK
Dedicated User Award
Testostereich says, "Huzzah! YOU, my brother, have proved your chivalry. I knight thee an illogicopedian sir/dame for your services to the site! NOW COME JOIN US AT THE ROUND TABLE, you might want to watch out for the wobbly chair leg though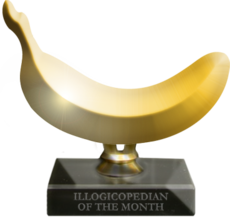 -I won Novelniver 2007's WoTM! O: :D