Machine gun
Jump to navigation
Jump to search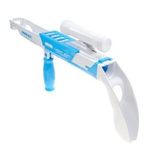 A Machine gun is a awesome gun that can be used to mow people down like cutting grass.
You simply stick some bullets in, uh, cock it or something, and start mowing down people! There are different ways to mow down people though, you can:
Fire in a straight line
Start spinning and shoot around wildly (Warning! May cause death!)
Uh, I dunno, surprise me!
There are three types of machine guns, er, so I think. There are normal ones, ones made for Nintendo products, and one with like this huge control pad and a missile and lots of buttons.
Best of all, they are super portable, you can even get a personal stand with a sticker of your mom on it, and you can even make robots mow down people too!