Banhammer
Jump to navigation
Jump to search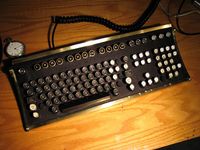 A banhammer is a mechanism the elves grant Invigilators in order to smite miscreants.
Use and abuse
[
edit
]
Although most only use this tool for good, Andy Schlafly and his cronies use it to silence the opposition in a truly Communist manner. Even Jimbo is known for abusing the banhammer.
Even the humble Illogicopedia has a selected elite who hold banhammers. Though it has mainly been used to smite miscreants from the porn satire site Encyclopædia Dramatica, one like Arsefly could obtain it and abuse it.
History
[
edit
]
The banhammer originated in MMI when Larry Sanger felt it necessary to censor the heathen bologna site Wikipedia that has more articles on Pokemon than History.
See also
[
edit
]