Racist
Jump to navigation
Jump to search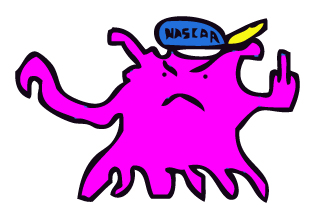 Warnin', this article may not be offensive.
---
Hey there, soldier. Why don't you just sit yourself down right here, I'll order us a couple beers.
''*ahem*'' HEY! YOU! SAND-STROKER! YEAH, GET YOUR ORANGE ARSE OVER HERE AND GET US PURE BLOODED VORDOVIANS A COUPLE OF BEERS! And you better not ovulate in the glass, either!
Those damn untrustworthy Sand-strokers, thinking they're so much better than us just because they control all the Quadloos in this sphere. I'm tellin' you, boy, once I haul my shipment back to Voldoplex I'm gonna get a whole bunch of my buddies, some shovels, and go to town on a few of them boys just for giggles. You with me, pardner? No? Ah, f'get it then.
Where the hell are those drinks? Damn sand-strokin' Chinnan is probably putting his tentacles all over the inside of my glass, I just know it. You know a funny thing about Chinnans? All they ever do all day is put there tentacles around in the sand and just wiggle. They get some sort of freaked-up sensation out of it, or something. At least they've got their own planet. Back on Voldoplex you wouldn't see one of those guys around unless he'd been shovelled already.
You don't talk much, do you? I bet one of those violent Renzoids cut out your tongue, or something. Those fellas are always just hoppin' onto planets and cutting shit up. It's in their blood, just to get drunk and cut things apart. They're all the same I'm tellin' you, boy.
You know why Chinnans and Renzoids have orange skin? Because they're full of quiss.
You liked that one, didn't you? I got tons more where that came from. How about this one: what's the only difference between a Renzoid and a bucket of quiss? I don't kill Renzoids for sport on Saturday nights. Also, the bucket.