Pirate
Jump to navigation
Jump to search
Ah, the pirate. They are a race of people who live in boats, steal stuff, say arr, steal more stuff, kill people and steal some more stuff. They are not to be confused with pie rats, pi, rats, or rat pies. They are pirates. YEESH, how long does it take to spell a simple thing of simpleness. Well, it's not that simple. Yuo see...
YOU SEE
[
edit
]
The Pirate is not a simple thing to spell, it requires precision, agile fingers, enough with this crud..pirate is easy to spell. If you can spell pie and you can spell rat as well, you can spell pierat. It's simple! no wait, i got the letters mixed up. Once you have spelled pierat, mix the letters up to get something like pirtea. Then turn it backwards and it becomes piraet. Switch the last 2 letters a nd presto! THE WORD DOES NOT BECOME PRESTO, HALF-WIT! IT BECOMES PIRATE! TA-DA! YOU HAVE ACHIEVED THE IMPOSSIBLE!
A-bleh.
Appearance
[
edit
]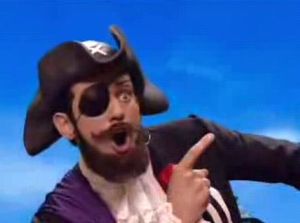 A typical pirate has a beard, eyepatch, ragged clothing, and a goofy hat. Why they wear clothes like this, I don't know, but probably to fool people into thinking they're harmless rodeo clowns.
Pirates in History
[
edit
]
The First Pirate
[
edit
]
The first pirate was a man called Pye R'ate, who lived in the days of Ancient Egypt. He stole stuff from the Pharaoh Imawesome, and moved to the sea to escape painful agonising torture. Over the years, he stole a woman from another country, creating a new generation of pirates. This cycle continued, until there were so many, they had to go get some more boats. But boats were in demand, so they killed the "mand" who had the boats inside of him, and that's how they got boats.
Why there's even a song on boats:
"THAT'S HOW WE GOT BOATS!"
"YA, THAT'S HOW WE GOT BOATS!"
"WHAT? WE GOT GOATS?"
"NO, I THOUGHT IT WAS COATS?"
"SHUT UP, I CANT THINK!"
"LA LA LA LA LA!"
(Brutal fighting starts and continues until some guy dies)
The Pirates of Rome
[
edit
]
The pirates invaded Rome for a while, but were quickly defeated by the Romans' weapons and armour. During this time period, they became lower than rats, stealing stuff like cheese and bread etc. and cooking it any way they could. Eventually, one guy stole a piece of triangular bread, cheese and tomatoes, creating the pizza. The pirates became fed up with having to live this way, and planted a powder grenade under every temple, palace or home, bringing the Romans to an end.
The Pirates go to Medieval England
[
edit
]
The pirates then went to Medieval England, *JACKPOT*. The King had godzillions of money and paid the pirates to entertain him because he thought they were rodeo clowns. After years of humiliation, the pirates gave up being the King's entertainers, partly because he had no more money. So the pirates plotted, finally deciding on one plan: They released a rat into England, which started the plague.
The Golden age of Pirates
[
edit
]
The 1700's proved to be the pirates' heyday. Some of them went straight and worked for the royals so they could get more money. The goody-two-shoes pirates who worked for royalty were called "Privateers" yep, that's how they talked back then. The rest of them stayed normal, stealing stuff and having bad hygiene. One day the privateers met the pirates and had a war. We all know the badass regular pirates won. Why in fact, there's a japanese comic on this sort of thing, they call it One Peas or was that Piece. AH....BLEH. AH....BLEH? I thought it was AH....CHOO! Oh well.
The Silver age of Pirates
[
edit
]
The 1800's were pretty good, but with the rise of the industrial age, a new money-grabbing dirtbag came about, the lawyer. They had some good times, but sadly many pirates died during the later years. One lawyer in fact, destroyed, 79% of the pirate population, his name, Phoenix Wleft.
The Bronze Age Of Pirates
[
edit
]
With only 21% of the pirate population left, after a certain Wright person destroyed them all using "The Ring", only 210 remained. That's 21% for you, mate. Yes, yet one pirated stood out, his name was Blackbeard. Withhis beard full of black wonder, actually licorice, he stuck to walls and climbed them, an ancient type of Spiderman. The water hose was invented and replaced the cannon, the cannon ball was invented but replaced by the bowling ball which was replaced by the bowling pin.
The Final Pirate
[
edit
]
Years later, only one band of pirates remained. The Jolly Rogers, a British band of pirates, no , they did not sing songs. This spawned the Shivil War, not Civil War. The pirates, which only 18 remained. That is, the jolly rogers, against 30,000 lawyers with an urge to kill..i mean defend their clients against money-robbers. (My Hypocrite-Sense is tingling) This war spawned the movie 300.
The End Of All Piracy
[
edit
]
Amd thus, the Shivil War ended, 1 pirate remained, 1 lawyer, and yes, that was Pheonix Wright. Some British Dude, who was that very pirate, shot Mr. Wright with a pistol and he died. Then that British guy died of cancer. But piracy still remains...?
IN DVD'S!!!!
Their Catchphrase
[
edit
]
See ARR for more information.
Pirate Anthem
[
edit
]
This is how it goes:
Yo-ho! I'm a pirate!
It's a pirate life for me!
Yo-ho! He's a pirate!
Jubujibijubujibijiii!
Yo-ho! You're a pirate! You're a pirate's life for you!
Yo-hoe! Hoe for gardening!
And then we cook some steeeeewwwwww!
Yo-ho! WE ARE PIE RATS!
.....I mean pirates!
It's a pirate life for us!!!
Yo yo! Yo yos are fun toys!
They bounce up and down, yo-ho!
....I mea yo-yo!
YOOOO-HOOOOO! I'M A PIRRRRRRATTTTE!
IT ZA PIE RAT LIFE FOR MEEEEEEEE!
YOUR HOE...IS FOR GARDENING~
It's a pirate life for yeeeeee!
YEEEEEEEE!!!!
EEEEEEE!
E!
(THE END)
See also
[
edit
]