Timothy Holsen
Jump to navigation
Jump to search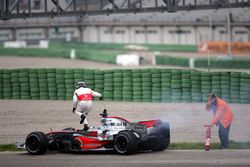 Nicknamed "Duda" by fellow competitors for reasons which have been lost in the mists of motor racing history, this dashing young pilot had been raised on the family estates near Madrid where his family lived in conditions of genteel, faded elegance. Later moving to Sao Paulo, Brazil, this Maurice Gibb lookalike earned a stormy reputation for erratic driving, establishing the record of engine failures in a single season to date, the astonishing count of 46, comprising the qualifying and the races, in the year 2000.
Unsuccessful in his attempt of becoming an engineer in a Brazilian public University, Timothy Holsen did not start competing until he was 21 when he joined a friend in a General Motors race car on the Sao Paulo "In Between Lakes" race in 1998. Having got a taste for the sport he entered his own Fiat automobile the following year and in 2000, using the same car, he finally finished his first lap.
He did not return to racing until the end of 2004. The following year he drove a variety of different machinery and finished almost four complete laps in several different Grand Prix. His last major result was at Carapicuiba's "Jet Pilot - Só Diretoria" race, in 2006, when he finished eleventh.
Recent times
[
edit
]
Lately, Holsen has dedicated most of his time to his recent love of the art of painting, a passion he acquired from his mentor Dry Ear, a renowned Brazilian artist. Racing became a hobby, though a not fulfilling one, due to his disappointing achievements.
More recent times
[
edit
]
BLEEB!