Monkey Sword Fights
Jump to navigation
Jump to search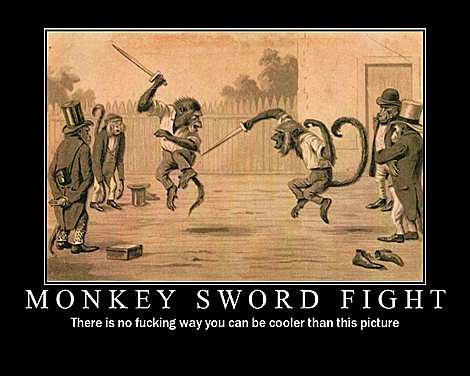 A Monkey Sword Fight is a sport watched in Most Parts of the world in the 1800s.
History
[
edit
]
Monkey Sword Fights were created in 1792 by Chavy Bobson-Chavs (he was a monkey) and are equivalent to wat football is now).
The first monkey sword team was Madrid-BRAPZ MFC created in 1801 by R. McChavso. They were cancelled in 1822 after Chavy Bobson-Chavs was assasinated by an unknown hairy person in a McKenzie jacket.
The best monkey sword team of all time was Liverpool-SFE MFC. They won 2 trophies.
CHAVS WAT?
[
edit
]
Sing it to the tune of 'YOU WOT?' by DJ Q and MC Bonez
Big up all the chavs again, keep on playin yet again!
Chavvy B on the mic
YOU WOT!! YOU WOT!!
We kill all the vibe!
YOU WOT!! YOU WOT!!
The End Really please not
[
edit
]
I'm afraid so its finished but it is UNDER CONSTRUCTION SO PLEASE HELP.