Randumbism
Jump to navigation
Jump to search
(or The Sinister Truth Behind said Randumbism.)
Sometimes, dear reader, we all get a little ahead of ourselves. Let me begin at the end, where we all die in an unrelated explosion. My second part takes makes somewhere in the middle, where phrases like "Anthropomorphised cabbage AEIOUOIEA GEEEEEEEEE!P GK-KG-GCHK!K!" are thrown around as often as heads - which happen to be thrown around as often as vowels in the Welsh Language[1].
Randumbism is, in fact, a very contagious disease. Experts say that if one randumb person got on a plane[2] then 90% of the world's population would be vandalising Illogicopedia after 28 Days.
I sit now interviewing a person diagnosed with an extreme and terminal case of randumbism currently being referred to as "EDiocy" .
Me: Hello there, dear sir. How has your day been today?
EDiot: FACKIN HATE YOU. DESUU.
M: Quite. Would you like a glass of anything?
M: Here you go. *coughs* oh, I seem to have a sore throat. Anyway, CONTINUing the interview, what is your current stance on the Ducks vs. Anti-Ducks war?
E: NIGGERS COPIED US!
M: I'M NOT ENTIRELy sure of what you're saying. *coughs*
E: FUCK THOSE FUCKING NIGGERS.
M: Okay... next qUESTION. WHAT WAS THe last movie you saw?
E: TELETUBBIES TECHNO REMIX; DIRECTED BY A.N. HERO.
M: Was it good?
E: I CAME.
M: Pardon me if I'm mistaken, *coughMYSOGINISTICCOMMENTs but are you a /b/ tard?
E: YOU'RE A FAG. EVERYONE'S A FAG! I WATCH YAOI. YOU FUCKING FAG!
M: And I understand you read Kerrang! magazine?
E: YEAH SLAYER ROCKS. GO CUT YOUR WRISTS! I LOVE FALSE METAL AND HATE MY CHEMICAL ROMANCE! AAAAAAAAA!
M: ELLEN DEGENERES LIKED PUDENDUM MULIERIS. Wha... what was that... oh... oh no... oh God... I haven... BENSONNNNNNNNNNNNNBENNSON!!!! EEBLESONKEEEEEEEEEEEHELPMEEBLE! EPLE!
E: HITLER DID IT.
M: JUST FLICK ME CLIT ALREADY, FAP MCFAPSSON
E: I AGREE. ALSO, WHILE ON THE SUBJECT, HAVE YOU HEARD MUDDY WATERS' LATEST RELEASE? IT'S CALLED "I MADE THIS IN THE YEAR 2007 (I WANT YOU TO LOVE MY CORPSE)(LIVE RECORDING)"
M: YEAH IT GOT A 5 STAR REVIEW IN GAY TIMES!
E: THOSE FAGS SURE HAVE GOOD MUSICAL TASTE.
M: WHAT WERE WE TALKING ABOUT? EPLE?
E: EPLE? THAT'S NORWEGIAN FOR APPLE.
M: THEN HOW DO YOU SAY MUSHROOM CLOUD?
E: MUSHROOM CLOUD.
M: AH, I THOUGHT SO! THANKS FOR CLEARING THAT UP FOR ME.
E: WHAT SHOULD WE DO NOW?
M: GO TROLLING?
E: WHAT'S THAT?
M: I DUNNO. LET'S JUST PLAY RUNESCAPE INSTEAD.
E: BUT THAT'S SO BORING. AREN'T WE SUPPOSED TO BE HUGELY ANGRY AND FULL OF LIMITLESS ENERGY?
M: AH, I HAVE ALREADY THOUGHT AHEAD.
E: OH?
M: YEAH, WE CREAT CLONES OF OURSELVES AND CROSSBREED THEM WITH AN ORANGUTAN WITH ADHD AND MAKE HIM PLAY A DIFFICULT ARCADE GAME. WE THEN WITH OUR CLONES TRANSFER PSYCHICALLY ALL OF OUR ENERGY INTO IT; THEN LET IT LOOSE IN A HELSINKI STRIP BAR. CHAOS... I LOVE CHAOS!
E: OK.
M: ACTUALLY, SCREW THAT. LET'S JUST GO ON HOLIDAY INSTEAD!
E: DID I JUST HEAR AN OMINOUS THUNDER CLAP? NO? OKAY, THEN, LET'S GO!
↑

Strangely enough, this means "never" and thus renders the article completely redundant.

↑

regardless of how many people are on it.... even if it's not flying. All that needs to happen is one randumb person to be within the confines of a plane for illogic to take its course... even if it's not flying... or even working.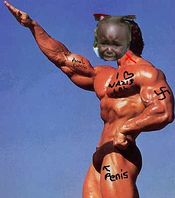 ...ksssht... hologram transmission incoming. Message start
[
edit
|
edit source
]
This is your president Arnold Schwarzenegger from the year 2009! Quick - you need, urgently, to emigrate to Bolivia. This is no joke! Bolivia is the only place safe from the onslaught. I don't have much time left. Hey- who are you..? Ow! Why did you just bit me? *coughs* SHALLWEWALKWITHOUTCHAIN?!!1 oh... oh no! HELPP-- ow. A grue just bit me! What do you mean "some grue cheesily"? DON'T MAKE ME GET BENSON ON YOUR ASS LOLZ.
Everyone dies in an unrelated explosion.
This page is gosh gosh gosh gosh gosh!!!!!


This page shouldn't have been viewed by children...




 Oh well.