Wikipe-tan
Jump to navigation
Jump to search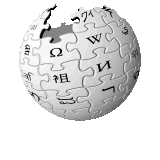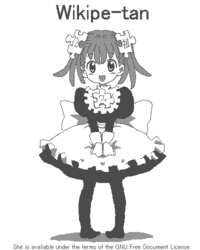 Wikipe-tan: Welcome to WikDonald's. May I take your order please?
Otaku: Yeah... why are you working here?
Wikipe-tan: Because...well... umm...
Otaku: You're too beautiful.
Wikipe-tan: Yeah, well, we don't serve otakus at WikDonald's. Next customer!
Wikipe-tan is married to Jimbo Wales, founder of Wikipedia. She looks like Japanese ann-i-may, and is considered to be ugly to most people except nerds and wiokia peoples.
Wikipe-tan beats the crap out of woodles on a daily basis, as they try to eat her. I can't blame them, Wikipe-tan looks tasty. I mean, when something's blue it has to tase good. Like, um, water... and computer.
/me bites monitor

and stuff.