User:The Bard
Jump to navigation
Jump to search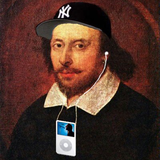 | | |
| --- | --- |
| | This user has been on Illogicopedia for 13 years, 11 months and 11 days. |
| | |
| --- | --- |
| | This user does the best impression of a sane person you've ever heard. |
| | |
| --- | --- |
| | This user is illogical enough to have won The Pickle. |

Who am I?
I've been trying to help out the wiki community as an admin since 2005. In addition to being the Illogicomedia Foundation's Benevolent Dictator For Life (Owner/Bureaucrat) and a contributor and blogger for Illogicopedia, I like to keep good relations with other wiki family members and their users as a...

What am I doing?
Yes, I understand that articles on Illogicopedia needn't be funny nor make sense. Despite this, I'm going to go my own way and write stuff that hangs together reasonably well and makes me laugh. I'm also going to write creative prose which may only contain the odd joke, or only a few very odd jokes. Sorry if you don't like that. Perhaps you're completely indifferent... but if you couldn't care either way, then why are you still reading this? Just to see how much more I'll write? Well get ready to be bored to tears, because I could keep just keep on writing and writing all da-

This user is a winner of the Illogicopedian of the Month award.
My gallery, including some of my featured images (well, just the two of 'em, actually) is here...

Other articles I recommend
Ones I collaborated on without permission
[
edit
|
edit source
]
HowTo:Make a Bird Shut Up • Harry Potter and the Goblet of Water • Illogicopedian Times • IllogiNews • Vandalpedia
Omegle • Porcelain Theocracies

Emergency GTFO terminal
 
bard@linux:~$ whatis illogicopedia
illogicopedia: nothing appropriate
bard@linux:~$ poweroff_  
 

Total Edits:
{{#ec:The_Bard}}
• Articles Written:
146
• Pictures Created:
28
• Creations Featured:
10