Nuntendo DS
Jump to navigation
Jump to search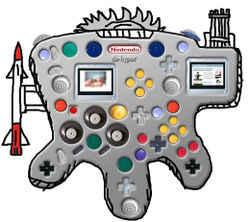 ""Habit" forming"
"Nihil Obstat and Imprimatur"
The Nuntendo DS is a popular Nun Japanese console all throughout the continent of Japan, which includes both Super Japan, Admin Japan, and Subbuteo. Illogicainen isn't the biggest market for the Nuntendo, because they don't like video games. this triangle of gaming love has brought together Super Japan and Subbuteo, despite their bi-weekly arm wrestling tournaments. In any case, on with the information.
The Nuntendo is a conviniently playable war system, with a small nuclear missile on it. The console itself includes many, many buttons, presumably for pressing. It is obvious half of them don't work upon immediate examination by even a half-geek, but it is still popular. it includes two small screens, one for viewing people in a camera (or to gather intel.) The other is for web browsing and IRC.
The two secondary weapons of the Nuntendo are a Chainsaw which fires Jon Stewart and a replica of Ol' Painless. These two alone are enough to take down an army, and maybe even 1/10th of a single ninja. Either way, it is both a deadly weapon and a salutation of great gaming.
Citizens of Subbuteo PORTABLE: Kibble Wong to the De Ja Wu



Bridge to Illogicopedia PORTABLE SAMANU DANCE DANCE CHA CHA CHA ROBOT CHICKEN


Admin: Feel The Breeze